Can You Really Build Your Career In iGaming In Malta?
Find Out Why iGaming Is An Appealing Career Choice
Your author first moved to Malta in early 2011. In those days Malta was much more relaxed and laid back than it is today. There were less people. Rents were lower. Everybody avoided Gzira. We thought that the traffic was bad. How little we knew!
Moving to Malta was a very clear step in your career. If a person moved to Malta they were saying, "I'm taking it easy. Do Not Disturb." That was what I was saying!
iGaming was a relatively new sector to the Maltese economy. It was important and growing, but it was nowhere near the level that it is today. The larger firms had several hundred members of staff in Malta. Most igaming companies were much, much smaller than that.
Then from around 2014 the sector really started to grow very quickly and the rest of the economy was unprepared for it. The real estate sector was completely unprepared for the influx of staff from across Europe. Rental prices for apartments in areas like St Julians, Sliema and Msida rose very quickly. In the best buildings and streets, prices doubled in just two years! The official data does not back that up – how can it when most rents are unreported cash transactions? – but I have had several friends give examples of this in their own lives.
The early igaming sector had focused on the Scandinavian markets, which meant that they hired lots of Swedes and Norwegians to move to and work in Malta. As the businesses started to grow, they needed staff from a much wider range of countries, such as Japan and Denmark. As I write this, recruiters are desperately trying to hire German and Dutch speakers.
As the companies have grown, they have changed from being fast-moving entrepreneur lead businesses into much bigger and more professional corporations. This has completely changed the career outlook for people working in the sector. Many companies have grown up and become stock market listed businesses. These are companies where reputations and careers can be built.
Why Work In The iGaming Sector?
Fast growing, profitable businesses can be a great place to work – especially in the entertainment sector. Everyone likes to have fun and relax. Many of the igaming founders like to imagine that working for them is a little like working for Google, so they want to have company events, speakers, lots of beers, BBQs and on and on.
As the sector has grown and recruitment has struggled to keep pace, it has become harder and harder to retain staff – especially the good ones! That means that igaming companies spend more and more effort to be a place that people want to work. They compete with each other to be viewed as the most fun business to work for!
iGaming Companies Are Still Moving To Malta
With most international igaming companies having some sort of presence in Malta, it is difficult to not be here. As the sector becomes more and more of a hub, recruiting new staff is much easier here than elsewhere – despite it being difficult to recruit in Malta!
In addition, the maybe-maybe-not of Brexit lead to a number of UK based companies moving some or all of their staff to Malta. Others were moved from Gibraltar to Malta.
It is also worth noting that for the company leaders, meeting fellow C-Suite and founder types is much easier in St Julians and Sliema than almost anywhere else in the world. Many deals get done in bars and restaurants in Portomaso Marina, Tigne Point and Valletta!
Related Articles
What Are The Best Languages To Speak For Jobs In iGaming?
What Are The Most Important Business Sectors In Malta?
Get Promoted Fast!
Small, fast growing companies often like to recruit and promote from within. This means that the employees that stand out as being smart and motivated often have opportunities to rise quickly within the corporate structure. I have met people in their late twenties whose jobs would be filled by much more experienced staff in their forties back in London or Stockholm. These people probably are not all experienced enough for these jobs, but in the meantime, it looks great on their cv and is setting them up for what will hopefully be a great career.
Why Work In Malta?
The Maltese economy is mainly built around tourism. This means that all the amazing weather is accompanied by fun things to do in summer. It can be a really great place to live if you want it to be. Here at AllMalta.com we genuinely believe that it is possible to build a challenging and rewarding career in igaming in Malta. We know because we are doing it and we see people doing it around us. But let's not overlook the fact that Malta can be a fun place too. So just to convince you of that, the photograph below is of the 2019 St Patrick's Day party in Spinola Bay. Malta can be a huge party! 🙂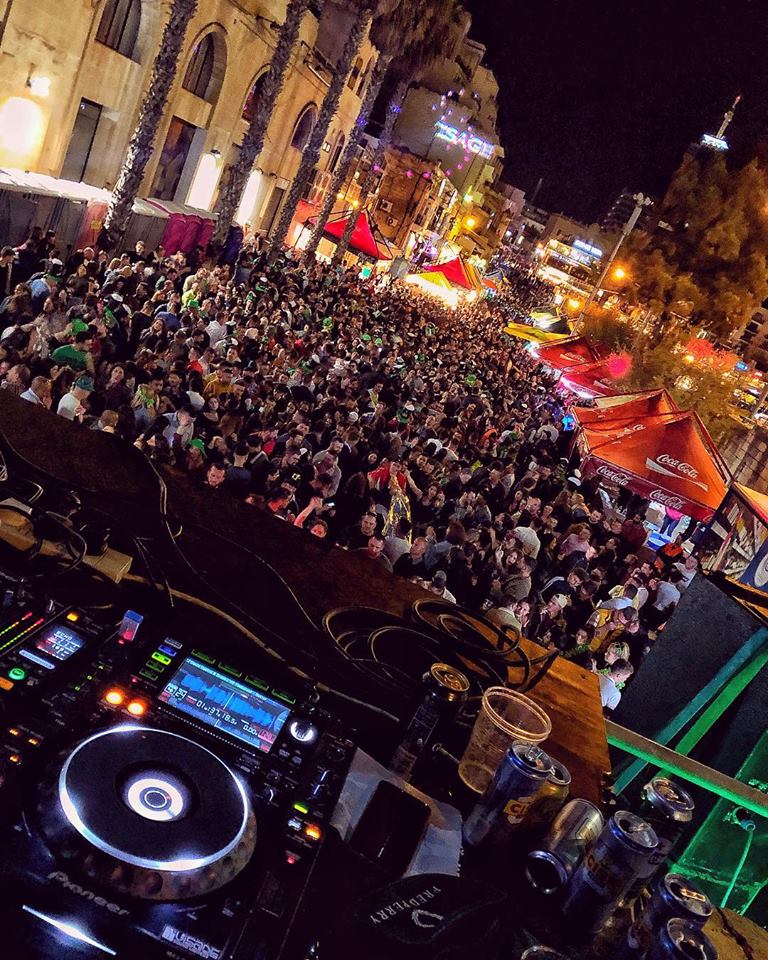 Staff in igaming are mainly younger people, partly because it is within the entertainment sector and partly because the work is so focused on the digital economy that many people over the age of fifty do not have the skills required. This means that there can be a bit of a weekend party feel at some companies. Yes! You can build your career and have a good time in Malta!
Hopefully, this is helping to convince you that Malta and igaming might be interesting for your next career move. If you have good experience in digital work – such as digital marketing or development – there might be a good job waiting for you. If you are fluent in business English and also speak another language as your mother tongue – such as German, Dutch, Danish, Swedish or Norwegian – and you have good technical and digital skills then there is definitely a good job waiting for you! Please follow the links on the site to find the right type of role for you and send us your cv because we would love to help you.
DJ Photograph (c) Justin Ciappara